Order your yearbooks NOW - Click this link
Last day to order is January 10th.
Thank you to those parents who helped chaperone the
Nutcracker field trip last week. Again, we can not do these trips without you guys and your willingness to help us.
Also, thanks to those parents who helped set up and take down the props for our musical. The students (and Mrs. Dyer) did another fantastic job! We have such talented students!
You are cordially invited to attend our
Heritage Day Food Festival
on Wednesday, December 19th from 1:30 - 2:30
in the Lower School Library.
Please invite others who may have contributed to your child's Heritage project through family stories or information.
We would love to have them join us.
Students should bring their
country's food ready to serve.
The set up will be similar to the state fair they did in 3rd grade.
We will not have time at school to help them prepare their food to serve.
Thank you in advance for your help with this.

Thank you to those of you who have contributed to this drive already. We will still be collecting toys through Wednesday, December 19th.
Toys must be new and unopened.
Jeans week continues through Friday, Dec. 21 for lower school.
Remember, students MUST wear a GWA uniform shirt
(no spirit wear) with their jeans.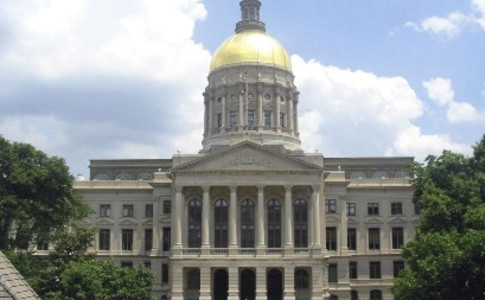 Our field trip to the Georgia State Capitol will be this Thursday.
Click the link below to see who will be chaperoning.
Information for students is as follows:
Students are allowed to wear jeans with a red GWA uniform top. Comfy walking shoes, please!

Chaperones can go ahead and enter the state capitol building upon arrival and wait for us in the Rotunda. We will be arriving around 10:00.

We will meet back at the marble staircase near the Governor's office at 11:30 in order to take a class picture for the In Focus. Please be prompt. This is when you will check out your own child and return any students to teachers who are riding the bus back.

Students returning to school with us on the bus should bring money to eat at CiCi's pizza. It will cost $6.00 per student for the pizza buffet and a drink. Lunch is NOT covered under DAWGS 360. All students eating MUST pay. Please send the exact amount (in cash) with your student before or by the day of the trip. Thank you!
Students riding the bus back will be back at school for carpool and they will go home their normal way.
Friday, December 21 is an
Students will be released at 11:30!
Please be prompt in picking up your child if you are picking them up in carpool.
If your child rides the bus, check with their bus driver on the adjusted time to pick your child up from their stop.
There is NO AFTERCARE ON FRIDAY!!!
SPACE CAMP CHAPERONE MONEY is due by this Friday, Dec. 21 if you want to chaperone.
Student money can be paid by January 9th.
Thanks!
Merry Christmas and Happy New Year
We will see you on January 7th!